Type of Scooter:
Small Lightweight Scooter
Scooter Name:
TravelScoot Deluxe
Tell us what your scooter looks like:
Small tricycle style foldable scooter. It has a silver metal frame and a red bag carrier under the legs. The handlebars and seat are adjustable. The seat has a large cushion and a small cushion for the back. The battery is located underneath the seat and is long and rectangular.

How did you get this scooter:
Paid for it myself.
Where did you get this scooter:
TravelScoot Website

What would you rate this scooter:
★★★★
Scroll down to read more!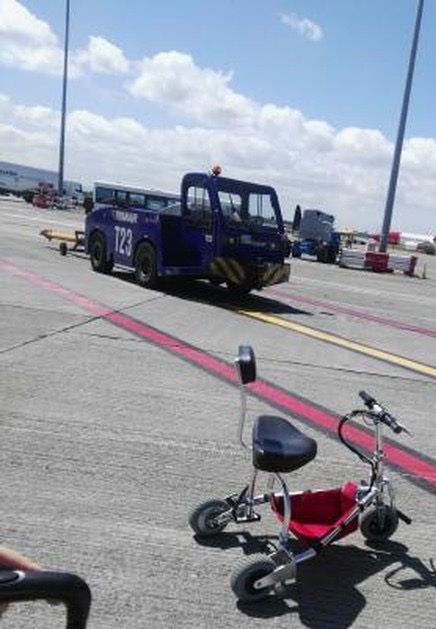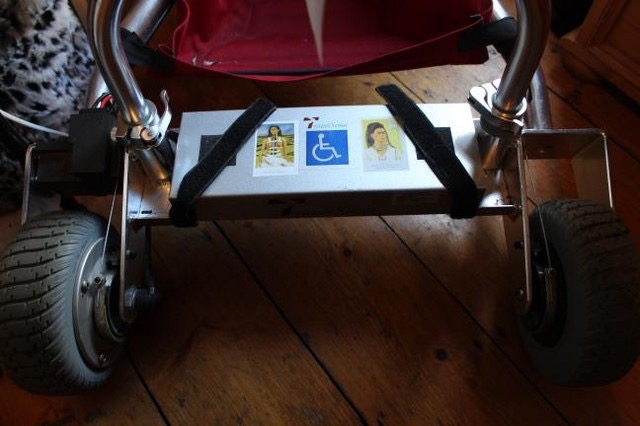 This scooter is really comfortable?
Disagree
This scooter is easy to take apart?
Strongly Agree
This scooter is easy to transport?
Strongly Agree
This scooter is easy to use on public transport?
Agree
This scooter is great off road?
Disagree
This scooter can go up or down a kerb/small step?
Strongly Disagree
This scooter can easily be adapted?
Agree
Can you hang bags and equipment onto the scooter?
Yes
Do you have problems with the scooter tipping?
Yes, It tips when turning corners at a fast pace, corners should be turned at a slow pace. It may tip if a small step or curb was attempted.
How long does the battery last?
I have two batteries. One (343wH) is over the flight safety limit of 300wH and is my long distance battery, which lasts about 10 hours of use. The second battery (205wH) is travel safe or for short distances and can last roughly 4 hours of use.
Personal Opinion:
I love my TravelScoot! It has opened up the ability to travel again and I get compliments wherever I go about it. I've been stopped in the street, museums, concerts all around the world with people asking what make and model it is, so they could buy it themselves or recommend it to family or friends - I keep their business cards in my purse because I'm asked that often! I use it for festivals, shopping and travelling independently.

I was conscious about getting a mobility scooter that was geriatric looking, as I bought it when I was 18. It is very small, easy to manoeuvre and it feels more like an extension of my body rather than a device that is transporting you.

It is very compact and can quickly and easily be folded to put in the boot of a taxi; this also makes things a lot easier when using public transport. It is very lightweight (about 12kg) so my friends or family can lift it up and down stairs in venues or tube stations. The pocket / carrier can fit quite a lot and is very handy. I can fit a suitcase under my legs, balancing on the frame and a small rucksack on the backrest which allows me to travel independently.

I knocked one star off because I find the back is not supportive enough for me to sit for long periods comfortably. However, a large back support would impact the ability to fold. Also, as a person with a spinal condition, I find that there isn't enough suspension in the seat and I can feel the cracks and bumps in the road which can hurt, but my city is very old with bad footpaths so I guess most scooters would struggle with this! It cannot go up small steps or low curbs, which means if I come to a curb I have to get off and lift it up, which is not good if you have bad back. But overall this scooter has allowed me to remain independent and get around with ease, so I would highly recommend it! I personally think this model of scooter would best suit people with medium to good balance, who don't require much back support & who can walk short distances.
Reviewer: Róisín Hackett
Disability or Medical Condition: Cauda Equina Syndrome & Scoliosis with Ongoing Complications
Did you find this review helpful? Hit the 'LIKE' button to let us know!
Have any questions? Comment down below & we will get back to you!